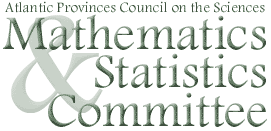 COMMITEE DOCUMENTS

High School Textbooks in Atlantic Canada
Errata with Commentary
June 2003

High School Mathematics in Atlantic Canada:
A Report prepared for the Canadian Mathematical Society Educational Forum, Montreal
May 16--18, 2003

Public School Math in Atlantic Canada
A Letter to the Editors of Atlantic Canada Newspapers October 2002

The Atlantic High School Mathematics Curriculum
Implications for Universities
April 2002
Who are we? The work of APICS is carried out primarily by its committees. This is the home page of the APICS Mathematics and Statistics Committee. As fairly independent entities, APICS committees set their own goals and initiate their own activities. We have published a variety of papers and reports, a booklet to help students prepare for university calculus and a book which is essentially the collected works (questions posed and solutions submitted) of Professor W. J. Blundon, for years the Head of Department at Memorial University and a keen problem-solver throughout his life.
Our committee takes a vigorous interest in issues related to the mathematics curriculum in schools and universities. We have solicited two commentaries (1995 and 2001) on the state of the curricula in the schools of Atlantic Canada at various times in the past. In 2002, in response to a request from the Chair of APICS Council, the Committee prepared a report on a new mathematics curriculum which is being implemented in Atlantic Canada and worrying universities because of possible negative effects on the preparedness of students for university level calculus. After the report was released, several Atlantic Canada university faculty began studying the textbooks which have been written to accompany the new curriculum and became very alarmed at what they saw. These people---Robert Dawson, David Hamilton and Maureen Tingley---have prepared a 40+ page report documenting numerous inaccuracies, misleading statements and other "errata", and including suggestions for improvement. The document should be of special interest to teachers, parents and others who are forced to confront the new curriculum.
We welcome comments from the general public about any issue related to mathematics or statistics, especially in Atlantic Canada and encourage email directly to this site.
Preparing for University Calculus. One of our latest projects has been the preparation of some material which should benefit any high school student intending to take calculus at the university level. This material is available on this web site by clicking HERE and also in booklet form from mathematics departments in Atlantic Canada. Contact the web site of the mathematics department nearest you for more information.
Annual Conference and Mathematics Competition. Every fall since 1978, our committee has held a conference designed specifically to attract the interest of undergraduate students. Universities from Atlantic Canada send teams to compete in a competition held in conjunction with this conference. The key note address is named after Professor W. J. Blundon, head of the mathematics department at Memorial University for almost 30 years and a founding member of our committee. Past competitions are available online by clicking HERE. The first sixteen Blundon lectures and first nineteen mathematics competitions were published in 1997 and copies are still available.
Upcoming Conferences
2005: Acadia University, October 21-23
2006: University College of Cape Breton, October 13-15 (to be confirmed)
Here are some links of special interest to us.
---